The Trust
Advance, Improve, Develop
Daphne Oram died in 2003 and her life's work was passed into the care of Hugh Davies who knew Daphne and her work better than anyone. Following Hugh's death in January 2005, Sonic Arts Network was asked by Daphne's family to become custodians of her collected papers, recordings and other items.
It was with experimental electronic music practice in mind that Goldsmiths College have collaborated with the Sonic Arts Network to bring this collection into the academic community where it can be properly studied and developed.
In 2007, Goldsmiths was pleased to announce the acquisition of the Daphne Oram Collection, following a successful application to the Arts and Humanities Research Council to develop research into Daphne's life and work, made in collaboration with Sonic Arts Network.
The trust aims to advance education of the public in the subject of electronic music, in particular, but not exclusively, by providing grants and bursaries to students studying the subject.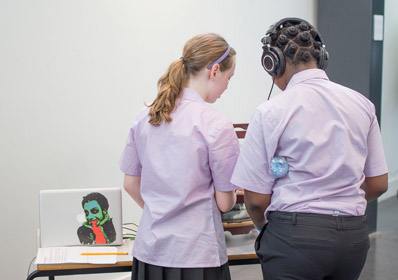 What The Trust Does
Focuses on providing education/training within arts, culture and science.

Has acted as a sponsor for many events/organisations such as NIME, a conference dedicated to scientific research on the development of new technologies for musical expression and artistic performance.
Donating to the trust will help provide grants to individuals and organisations and to sponsor or undertake research.