'The Woman from New Atlantis' in The Wire #330
19th July 2011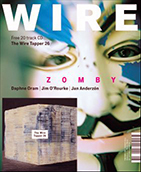 This month's issue of The Wire (August 2011) contains the first in-depth examination of the intersections between Daphne Oram, the New Age movement and electronic music.  Titled 'The Woman from New Atlantis', this article by Dan Wilson takes a look at her long out-of-print 1972 book, 'An Individual Note of Music, Sound and Electronics' along with her interests in deep listening, music therapy and archaeoacoustics (among other topics).
Within the article, a previously unpublished extraordinary futurological manifesto is reproduced, written by Daphne Oram in 1960, updating Sir Francis Bacon's famous "we have also Sound Houses" quote from his New Atlantis.  Oram variously called her utopia 'The Newer Atlantis' or, elsewhere, 'Atlantis Anew'…
Related material may be found at The Portal on the The Wire website for the current issue.