Oramics to Electronica at The Science Museum
30th July 2011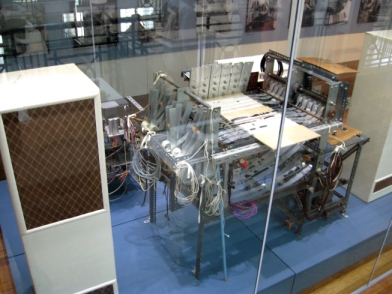 On Thursday 28th July, the Oramics machine was unveiled marking the start of the first phase of the Oramics to Electronica project at The Science Museum.   All four elements of the Oramics apparatus are on display, namely, the loudspeaker cabinets, the waveform scanner, the amplifier and the control console itself.  Rare interview footage with Daphne Oram is also featured, along with many other previously unseen curios.
This is an amazing opportunity to view this groundbreaking and historic machine 'in the flesh'.  Earlier this year, chief curator, Dr. Tim Boon, pointed out at The Wire's Daphne Oram salon the famous "grandfather's axe" authenticity problem, which asks "does 'grandfather's axe' remains his axe if both head and handle are replaced?"  In view of this, the Oramics machine is exactly preserved – the only notable replacements being the celluloid film strips on the control console (the originals had become discoloured, warped and very brittle).
Goldsmiths University have provided an interactive Oramics emulator console to faithfully reproduce the Oramics machine's capabilities.  This is also soon to be made available as an iPhone app.  A video showing this program in its experimental stage can be found here.
Details of the exhibition are available at The Science Museum's Oramics to Electronica site, and plenty more can be found on the Oramics Machine's Facebook page…